Engineering Capabilities​
Design
S.G.D specializes in the design of airframe and airborne systems including new systems installation and integration, aircraft modifications, upgrades and conversions. Our detailed design- mechanical, electrical and software, is tailored to meet customers specific requirements based on applicable Civil and Military Standards.
Mechanical Design is performed using various 3D solid modeling CAD systems.
Based on our customer's requirements we use:
Uni Graphics
CATIA
Pro-Engineering
Cimatron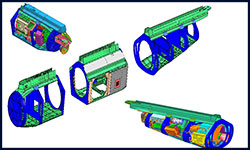 ________________
Integration
System engineering and Integrations of new systems on board an aircraft require experience, Know-how and systematic approach.
S.G.D delivers integrated solutions, based on the specifications and performances requirements of our customers.
Our Integration package includes mechanical and communications integration, wiring and installation. We integrate systems and components to work together as one unit and with the aircraft existent systems.

The integration is done from the system architecture design, development of control and processing units, performance of System Integration Lab (SIL) tests, Installation in the aircraft and full ground and flight testing.
________________
Installation
We have vast Installations experience. We have successfully completed installations on variety of platforms, on fixed and rotary wing aircraft. The Installation is carried out by S.G.D's experienced and qualified technicians (structures, mechanics, and electricians), as all installations are performed under S.G.D's engineers guidance and supervision. We can implement the installation according to the location the customer desire, at the customer premises, or in facilities offered by us.
________________
Analysis & Testing
S.G.D's Analyses Group supports a wide-range of capabilities to ensure the integrity of all ours designs. We provides a comprehensive set of analyses and simulations such as:
Loads Analyses
Stress Analyses- linear and nonlinear
Thermal Analyses• Aerodynamic Analyses
Computational Fluid Dynamics (CFD) - loads, Stability & Control, Drag & Performance
Dynamic and Modal Analyses
Fatigue analyses
S.G.D has the expertise to plan and perform the relevant ground and flight tests, as required to certify our products. We support:
Ground Static tests
Ground Vibration Test
Wind Tunnel Tests
Safety of Flights Tests
Environmental Tests
Ground Fit & Function Tests
Heat transfer Tests
EMI/EMC
Radomes radiation tests
Flight Tests- envelope clearance, Performance evaluation
Instrumented flight Tests
All of our products leave the production line after all the necessary tests and analysis and meets our and customer quality requirements standers to the fully.
______________
Certification
S.G.D supports the Certification process according to applicable requirements such as FAR, MIL-SPECs and specific customer's authority's requirements such as FAA, EASA, CAA or Military Authorities.
We certified a large number of modifications and installations on civil and military aircraft.
The Certification package as per the certifying authority requirement and include as a minimum:
Production, Assembly and Installation drawings and all engineering documents
Analyses documents and reports
Qualification documentation for LRU's
Tests documents (test plan, test procedure, test results and evaluation)
Ground tests
Wind Tunnel tests
Safety of flight
Flight tests
The process is complete after receipt the Airworthiness Certificate of the modified aircraft from the relevant authority.